Share Your Passion with the World.
Live video streaming is the live delivery (and often simultaneous recording) of video via the Internet and is now a common way to consume video content. Live streaming taps into the inherent energy and engagement of the live event – we've all experienced the excitement and shared experience of watching a sporting event live compared to viewing a later replay.
Live Streaming.
You can live stream just about anything, including live events such as sports, weddings or gaming, interviews, product reviews and demonstrations, live webinars or training, church services, and more. Share your expertise or give your audience your learned insight into your chosen industry. Streaming platforms such as YouTube Live also offer you plenty of help with cool features that add to your customers live stream experience. For example, you can:
•Engage with your audience through live chat.
•Use real-time analytics to see how people are engaging with your live stream.
•Generate extra revenue through the addition of advertising on your stream.
•Enable convenient pause and rewind for your audience.•Embed the live stream on your website or social media.
Live streaming gives anyone the capability of being a creator and presenter – the opportunity to be seen and heard by an audience of practically any size – from just a few private friends to a global public audience.
YouTube Live
One of the most popular video-sharing websites in the world, YouTube, enables users to broadcast live events, seminars, and other content to a big audience.  
Zoom
With its live-streaming capability for webinars, conferences, and other events, Zoom has grown in popularity as a platform for video conferencing.
Facebook Live
Users can broadcast live video to their friends, followers, and groups using Facebook Live, a feature of the social media site.
Instagram Live
Instagram users can broadcast live video to their followers in real-time using the Instagram Live feature.
Twitch
Twitch has emerged as the preferred streaming service for gamers, and it has grown to support additional genres like music, discussion shows, and art.
LinkedIn Live
LinkedIn Live is a professional live-streaming platform that allows users to stream live events, webinars, and more to a professional audience.
Australian Swimming Championships.
Kristian Sheperd, co-founder of BigVoice Media Group, talks through how his production company used the all-weather A200, and the workhouse P200, to stream the Australian Swimming Championships live to Amazon Prime.
The Goetheanum.
Jesse Osmer, the IT and Video guy over at The Goetheanum, enlightened us about how they use BirdDog cameras, converters, and NDI across multiple different rooms and events, and bring that signal into a central location, capturing it into @WirecastTube and sending it where it needs to go.
Live Streaming From Events.
Organizations can use live streaming to increase brand awareness, create a sense of community, or extend reach beyond local physical bounds. Streaming means that anyone with an internet connection is your potential audience and you can connect with more people virtually than could ever attend your event in person. You could also provide a paid option for an exclusive audience or garner corporate sponsorship for popular events.
Host a Webinar.
Are you expert in a particular field? Unlike historical broadcast, there are no longer any barriers for participation, and you can show off your expertise and impress potential customers no matter where they may be. Because it's your show, you can be as creative and sophisticated as you want to be. Inexpensive tools now exist to enable you to approach, or even exceed, the production values of traditional televised content. Your content can be highly personal and creative with a specificity that can reach, connect and hold niche audiences.
Q&A Sessions.
Transparent and honest engagement with customers is important in building trust and one way to demonstrate this is by hosting Q&A sessions. You can answer questions from customers and gain insight about how they use your products or services and how you may use their feedback to improve them.
Product and Feature Launches.
There's no point in developing an amazing new product if you don't have an epic and entertaining launch to back it up! There's no reason you can't do your own version of Apple's impressive iPhone launches!
Control that all important first impression that customers form of your product by smoothly demonstrating key features and functionality in real-time. You can also address any concerns or misconceptions immediately via live Q&A and chat.
During the third quarter of 2022,
live streaming recorded an audience reach
of almost 30 percent among internet users worldwide.
According to a survey conducted in October 2022,
37 percent of U.S. live stream viewers aged 18 to 34
used YouTube Live for watching live stream video content.
Facebook was the second-most popular
platform for live stream video.
Streaming Equipment.
BirdDog products are native NDI and ideally suited to live streaming requirements. NDI enables compatible products to communicate, deliver, and receive high quality video over a standard computer network that is frame accurate and suitable for switching in a live production environment.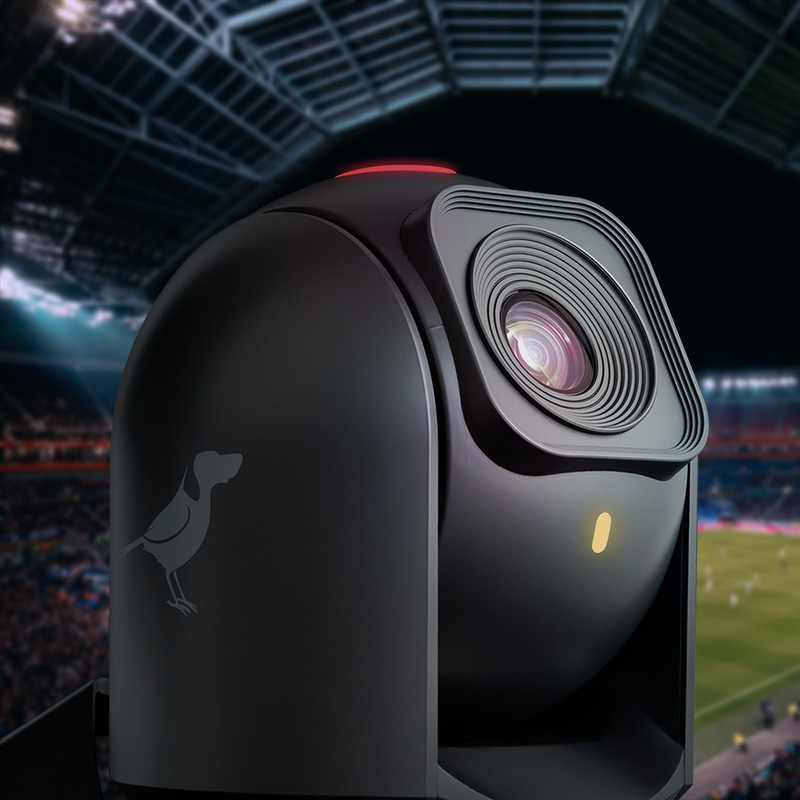 Cameras.
The incredibly flexible feature set of a camera such as the BirdDog P240 makes it an ideal camera for live streaming. The superb low-light capability of the full-HD Sony sensor means you won't have to spend a fortune on lighting to have your presentation look amazing. Plug your microphone directly into the phantom powered, balanced XLR connection to maintain pristine audio quality. Clearly visible camera Tally lights ensure that your presenters always know which camera is live. Benefits include: native NDI, no converter boxes are necessary, only a single cable is required for video, audio, control and power, and, full, remote PTZ control of the camera.
PTZ Keyboard.
BirdDog PTZ Keyboard offers low latency pan, tilt and zoom control over your cameras over NDI. Quick Access and Preset functions also allow control of camera Exposure, Shutter Speed, Iris, Compensation, White Balance, Focus, PT Speed, Zoom Speed.
Cam Control Software.
The free BirdDog Cam Control software is an easy way to dial in BirdDog cameras. Load the software onto a Windows 10 machine on the same network as your BirdDog cameras and have touch tablet control of your cameras from one interface. Cam Control also adds effective body and facial tracking to any BirdDog camera – great for solo productions!
Streaming and Production Software.
Production software allows you to create a professional live presentation and encode the result for transmission to your streaming platform of choice. Open Broadcaster Software (OBS) is a free encoder and production software that's a very powerful and affordable way to get started. Features include simultaneous multiple sourcing, custom transitions, unlimited scenes, audio mixing and proven, easy integration with Facebook live or YouTube live.More complex applications may require the media production capabilities offered by an NDI production system such as NewTek TriCaster. Tricaster essentially turns a computer into a TV studio and can seamlessly switch between presentation graphics, onsite video and third party video feeds.
Unrivalled Compatibility.
When buying video gear you want to make sure it's compatible with the widest range of gear on the market. As all BirdDog cameras offer NDI and Baseband SDI and/or HDMI there are no cameras available that are compatible with a wider range of products including:
BirdDog is pleased to offer free Central Pro and Comms Pro worth $598 to all our Educational, House of Worship, and Not for Profit customers.
Click here for more information.